Marble Zip Tours near Marble Mountain Resort is incomparable to any other adventure tour.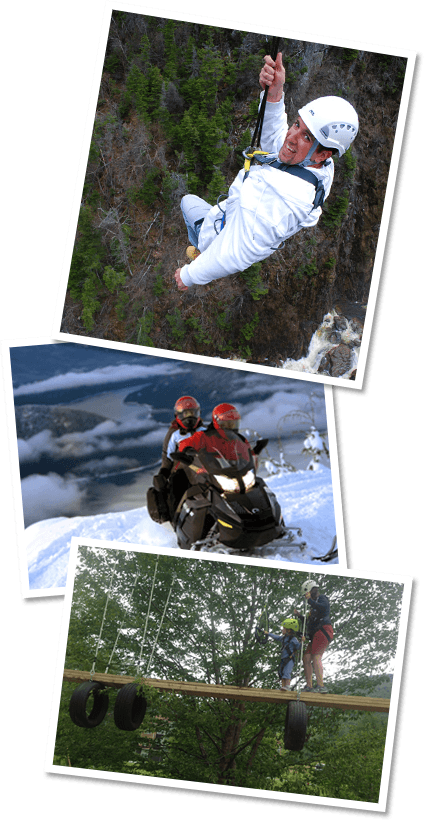 Have you always dreamt of soaring through the air at a crazy speed, but never had the courage to jump head-first from a plane at 15,000 feet in the air? Or maybe you're a daredevil in reality but don't have the experience required to do a wing-suited base jump off the edge of a cliff. Well, now you can get your fill of adrenaline without these limitations. Described by some as a cross between parachuting and flying, zip lining offers an experience unlike any other and those who've tried it have described it as "the ride of a lifetime!"
Marble Zip Tours (MZT) is located in Steady Brook, on Newfoundland's pristine west coast, alongside Marble Mountain Ski Resort, which is nestled at the foothills of the Appalachian Mountains.  Soaring 300 feet above the astoundingly beautiful Steady Brook Falls, this zip lining experience will have you on a zigzagging descent down Marble Mountain, Newfoundland, high above the colossal layers of exposed rock, fast-moving water, and breathtaking forest. The altitude provides a perfect view of the picturesque Marble Mountain Resort as well as the spectacular, but distant Table Land Mountains, which are decorated with snow for most of the year.
With nine zip lining courses that each offer a unique experience–rain or shine, sleet or snow-MZT promises you North America's premiere zip lining experience, 365 days a year, in a place that's appropriately referred to as eastern Canada's mecca for outdoor adventure.
Ziplining is the perfect adventure for the young and the young-at-heart. Our clients range from early teens to adventurous, adrenaline-seeking seniors who come to western Newfoundland to experience Marble Mountain Newfoundland and all the unique activities and scenery that the region of the island has to offer. Our professionally trained guides are certified and experienced and will guarantee that your safety is always the first concern while zip-lining. Why wait? Call us today to book your reservation–we guarantee an unforgettable experience.